News
Flechard's entire team wish you & your family a very happy  Year!
May the Year 2017 brings you and your family more Happiness, Good Health & Prosperity.
Thank you for your trust, we are looking forward to serving you again !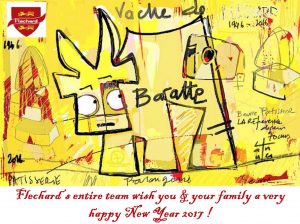 Pour fêter cet anniversaire, l'entreprise a organisé une grande fête de famille. Les salariés et leurs enfants, les anciens et les producteurs étaient invités à venir découvrir les coulisses de l'entreprise et ses produits.  Plus de 400 personnes ont répondu présents
Parmi tout ce monde, Renée Fléchard, créatrice de l'entreprise avec son mari, était ravie de raconter ses débuts épiques sur les marchés.  Une grande fresque retraçait par ailleurs les moments forts de cette aventure normande et internationale.
Pour marquer l'événement, l'artiste Van Luc, reconnu pour ses célèbres « Vache de » a réalisé en direct sous les yeux ébahis des visiteurs la « vache de Baratte -70 ans ».
Un beau de moment de partage et de convivialité.
Our team will be glad to welcome you at SIAL Paris 2016 from the 16th till the 20th of October on our stand 7D 159 – Hall : Dairy products, eggs